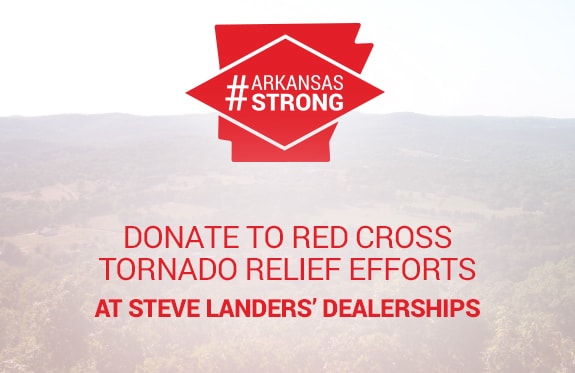 The Landers Family's thoughts and prayers are going out to those affected by the tornadoes that tore through Paron, Mayflower, Vilonia and other communities in central Arkansas on April 27, 2014, taking the lives of fellow Arkansans and injuring more than 100 of our neighbors.
As the search and rescue efforts continue and clean-up begins, the need for supplies and donations is great. Donation bins will be available at both dealerships: Steve Landers Chrysler Dodge Jeep Ram at 401 Colonel Glenn Plaza Loop in Little Rock, and Steve Landers Toyota Scion at 10825 Colonel Glenn Road in Little Rock. All donations will be transported directly to the disaster areas by our dealership. Here is a list of items that are currently needed:
tarps
flashlights
batteries
hand sanitizer
pre-packaged snack items
bottled water
gloves
toiletries
blankets
baby wipes
formula
diapers
first aid supplies
over-the-counter medications
garbage bags
plastic storage totes
If you would like to donate to the American Red Cross, you can call 1-800-REDCROSS, or text REDCROSS to 90999. You can also log on to redcross.org and make an online donation. Donations to the American Red Cross Disaster Relief fund helps provide affected families with shelter, food, emotional support and other necessary assistance.
For those who are in the affected areas, shelters with cots, blankets and food are available at the following locations:
CONWAY:
- St. Joseph's Catholic Church, 1115 College Ave.
- Antioch Baptist Church, 150 Amity Rd.
- Oak Bowery Baptist Church, 889 Otto Rd.
- Point of Grace Baptist Church, 1070 Markham St.
VILONIA:
- Beryl Baptist Church, 873 U.S. 64 East
- Mars Hill Church of Christ, 1028 County Line Rd.
MAYFLOWER:
- Mayflower Middle School, 18 Eagle Circle
When disaster strikes, Arkansans are always willing to lend a helping hand to our neighbors -- it's part of what makes our state great. We encourage you to donate what you can by dropping off goods at our dealership donation centers or by making a cash contribution to the American Red Cross Disaster Relief fund.
For more information, please contact:
Chris Chase, General Manager
Steve Landers CDJR
(501) 374-4848
cchase@landerscorp.com
Eric Scaife, General Manager
Steve Landers Toyota
(501) 779-4458
escaife@landerscorp.com