2021 Ram 1500 TRX in Little Rock, AR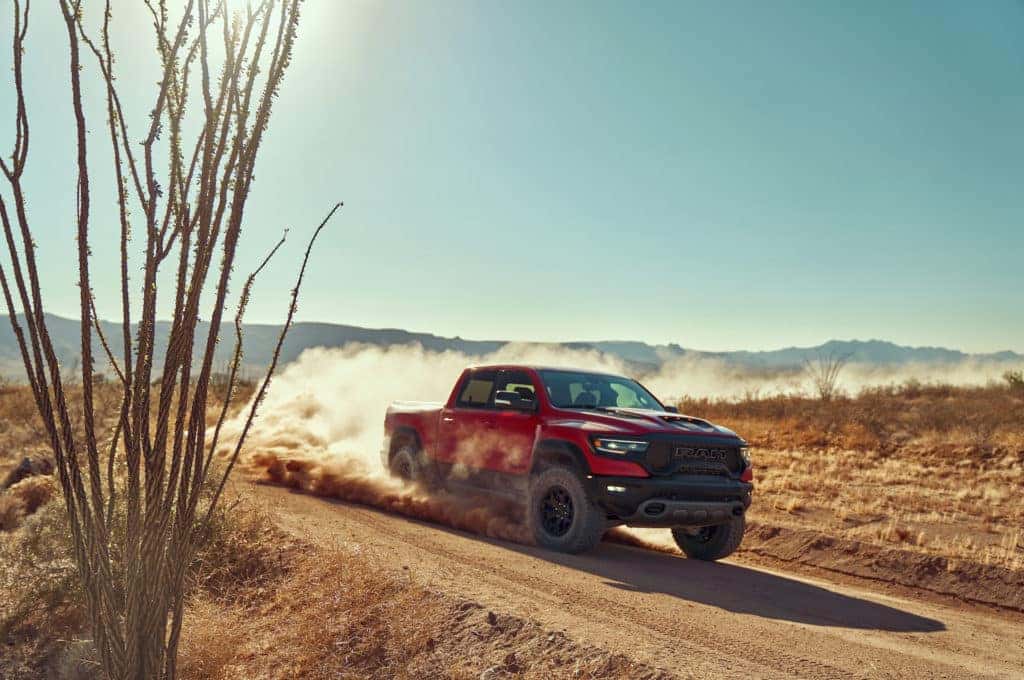 The 2021 Ram 1500 TRX is the quickest, fastest and most powerful mass-produced truck in the world! This insane pickup is built to take on the most treacherous conditions with its 702-horsepower V8 engine and high-torque-capacity TorqueFlite 8HP95 eight-speed automatic transmission. We can't wait for this lean, mean, off-road fighting machine to arrive at Steve Landers Chrysler Dodge Jeep Ram. Read on to learn more! 
Read the 2021 Ram 1500 Press Release
A New Level of Truck Performance 
The 2021 Ram 1500 TRX delivers a new level of performance with its 6.2-liter supercharged Hemi V8 engine. This engine provides an insane 702-horsepower and 650 lb.-ft. of torque and delivers a top speed of 118 miles per hour. How fast can the Ram 1500 TRX go? The TRX can go from zero to 60 mph in just 4.5 seconds, and zero to 100 mph in 10.5 seconds, making it the quickest, fastest and most powerful mass-produced half-ton pickup truck in the world. For a smooth ride, the  high-torque-capacity TorqueFlite 8HP95 eight-speed automatic transmission provides crisp, quick gear changes even in challenging road conditions. 
Outstanding Capability
You won't believe the off-road capability of the new 2021 Ram 1500. This machine is built to take on dirt, rock, mud and more without any issues. Its high-performance air induction system filters four times as much dirt and debris as competitors all while consuming up to 32.9 liters of air per minute. The exclusive 2.6-inch Bilstein Black Hawk e2 adaptive performance shocks provide fast reaction time, unbeatable damping and improved heat dissipation for cruising across rugged terrain at speeds greater than 100 miles per hour. Plus, with 11.8 inches of ground clearance, 13 inches of front suspension travel and 14 inches of rear suspension travel, the TRX can fly over rocks and other obstacles with ease. What about water fording? This beast can ford through up to 32 inches of water so you never have to worry about dodging big puddles (just drive straight through em').
Aggressive Exterior
The exterior styling of the TRX is just as aggressive as its engine.  It features a unique front grille with a modernized Ram's-head logo. Composite fenders and all-new steel box outers create a striking "hourglass" body adding eight inches to the Ram 1500's width. New LED lights accentuate the unique hood scoop and bumper flares, adding to the aggressive aesthetic of the truck. To complete the look, oversized tow hooks on the front and back of the vehicle, showcasing the TRX's rugged and functional aesthetic. 
Luxurious Interior 
The TRX has a luxurious interior built with premium materials like leather and suede. Three interior equipment groups are offered: TR, TR1 or TR2. The TR equipment group is based on the Ram 1500 Rebel layout and has premium cloth and vinyl accents with black and Dark Ruby Red surfaces. The TR1 and TR2 groups are based on the Limited model and features an all-black color scheme with leather and suede accents and Nappa-leather heated and ventilated front bucket and rear bench seats. The TR1 and TR2 groups come standard with medium Greystone stitching and graphite metallic accents, but the TR2 group offers red stitching and carbon fiber accents as an option as well. 
Are you ready to get behind the wheel of the 2021 Ram 1500 TRX? You can get your hands on this truck soon at Steve Landers Chrysler Dodge Jeep Ram! Stay tuned on our social media and blog to learn more about the TRX. We'll make sure to keep you up to date!