2022 Jeep Grand Cherokee L For Sale in Little Rock, Arkansas
What can you say about the Jeep Grand Cherokee L except that it deserves all of the praise it's given. This capable SUV is eye-catching and can conquer any road. While you can customize the Grand Cherokee L to further fit you, here's what we know about the standard, new Grand Cherokee L.
New Grand Cherokee L Inventory
Let's discuss the exterior.
Design Elements
The new Grand Cherokee L takes inspiration from past Jeeps, but the main focus was to not sacrifice any space. So the new L takes past silhouettes and revises smaller details to create a more refined, finished look. LED lights were added and a black painted roof is optional, so you can add your own personal touch when you purchase a Grand Cherokee L. The ground clearance is another design feature that helps with how successful your drive is. The clearance between the underside of the SUV and the ground is around 10.9 inches, plenty of room for the power under the hood to show off without scraping the underside.
Engine
Under the hood, the Jeep Grand Cherokee L can have a 3.6-liter V6 engine and produce up to 290 horsepower. The power is stabilized with a suspension system that can make it through 24 inches of water and articulation to keep the tires stable. The Grand Cherokee L has off-roading capabilities that you almost forget about once you take a seat inside and feel how smooth the ride is.
Let's discuss the interior.
Interior Elements
The SUV has three rows, with enough seats for the driver and up to six passengers. The first row seats are actually massage chairs, built for comfort and support. The second row seating can either be two seats with a console, for six total seats, or can contain three seats, for the full seven seats possible. The third row, with only two seats, can compress into the floor to add even more space in the back.
Technology & Safety Features
One of the most noticeable new features would be the touchscreen that can remember up to five driver's personal preferences. Standard safety features for the Jeep Grand Cherokee L are Park Assist, Adaptive Cruise Control, Active Lane Management, Blind Spot Monitoring, and Full-speed Collision Warning with Active Braking and Pedestrian or Cyclist Detection. Other features to help be your extra eyes while driving include Intersection Collision Assist, Head-Up Display, and Night Vision Camera.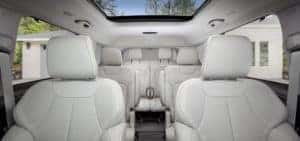 The Jeep Grand Cherokee L features a mix of new tweaks with classic Jeep characteristics. Keep watch to see the heights the Jeep legacy grows to.