Employee Profile: Brent Jones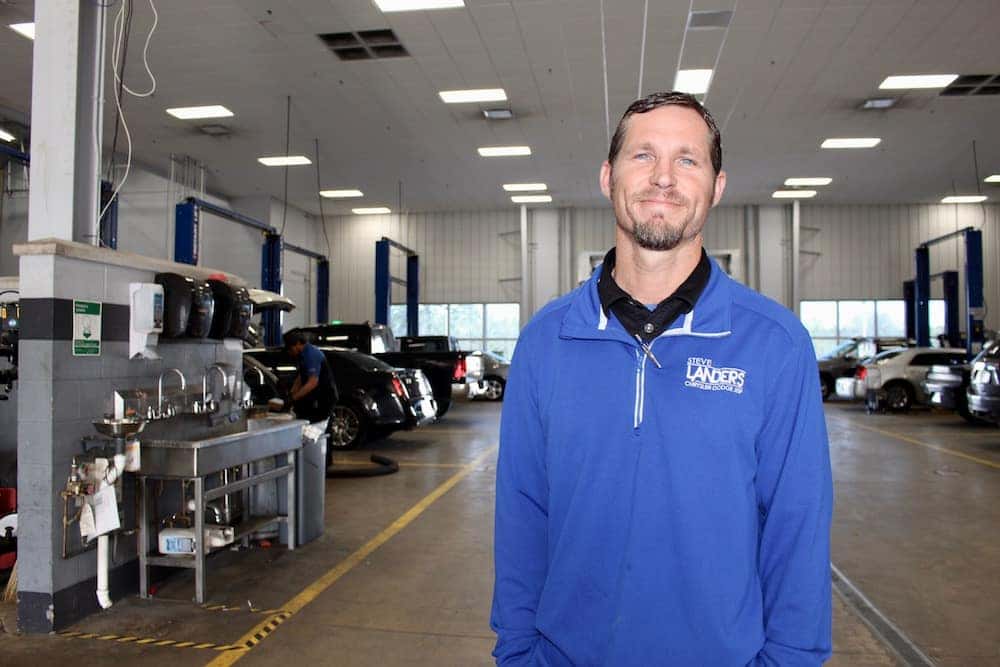 Brent Jones is a real car junkie. 
"I worked on cars a lot growing up and it kept my interest because no two are the same, even though they're mass produced," Jones said. "They're going to have different problems."
Jones has been here at Steve Landers Chrysler Dodge Jeep Ram for seven years and has been the service manager for the last year and a half. He also worked at Steve Landers Toyota, and ran the use vehicle shop when Big Steve owned the Landers dealerships in Benton. 
His love of cars started with his grandfather. 
"There were two things my grandpa and I always did," Jones said. "One was dealing with geology and the other was vehicles."
One of the first cars he fell head over heels with was a late 1960s Chevrolet Camaro. 
"It was probably one of my favorite cars they've ever made," Jones said. "It was red. It belonged to a gentleman I knew who restored cars for a living. I got to witness the transformation from being old and kind of ratty to being completely restored. It was one of the most pristine cars of my childhood." 
That Camaro made such an impression on Jones that his first car was a canary yellow 1973 Camaro. 
"It was a head turner," he said. "It's one of those that fits into the classic car category, and my favorite feature was its looks. Yellow was not my favorite and it probably got me in more trouble than it would it had been white or black. I have a lot of good memories with that car."
Cars were just a hobby for Jones when he was young, and he planned on being a dentist. His dad is a dentist, and Jones even went to dental school. The plan was for his dad to hand over his practice to Jones and/or his siblings if they decided to take up dentistry.
"I didn't have the stomach for that," Jones said. 
He tried his hand at psychology for a while, but he didn't enjoy that either. 
"I did what I loved and that's just talking to people and playing with cars," he said. "It doesn't really get a whole lot better. The two things I'm passionate about are people and cars." 
Jones's two passions serve him well as the service manager here. 
"I like dealing with people," he said. "I think that's always been the driving force in my career path. I really like just talking to people and helping."
Vehicle issues can cause a headache for most people. That's part of the business of vehicle service and Jones does as much as he can to help relieve that stress. 
"It happens fairly often where you get to lower somebody's bill or do something that Chrysler will allow us to do," he said. "Chrysler will cover a repair with a $100 deductible for a customer to get their car fixed for a minimum out-of-pocket expense. It makes you feel good anytime you get to help somebody out. It's rewarding."
And Jones said there isn't another dealership he would rather come to work at every day.
"I think this store is really unique because there are a lot of really passionate individuals," he said. "We're a pretty good blend of people in sales, service and parts. The fact that we have a lot of people who really enjoy what they do and are passionate about it makes for a well-rounded dealership. People are very customer-oriented and want to take care of and do the right thing by people. It's a hard quality to find in a company anymore."