Quiz: Which Jeep Should I Buy?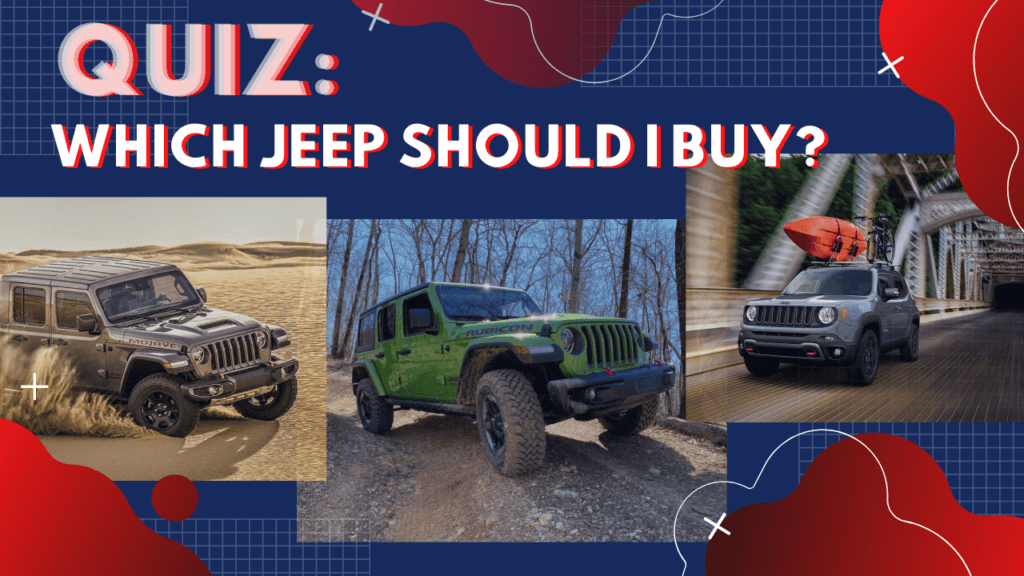 Whether you're a city slicker or an outdoor enthusiast, there's a Jeep for you! From the cool and versatile Renegade to the classic, world-renowned Wrangler, you can't go wrong with Jeep's outstanding capability and adventure-ready attitude. We at Landers Chrysler Dodge Jeep Ram know Jeeps, and we're here to help you find your perfect match. Take this quiz to find the perfect Jeep for you! 
Question 1: 
How often will you go off-road? 
Every once in a while

Rarely, but it's nice to have it as an option

Every weekend and whenever I can get a chance

A few times a month 
Question 2: 
It's most important that my car is: 
Safe

Cool 

Capable and sporty 

Able to tow and haul plenty 
Question 3: 
My ideal weekend is spent: 
Relaxing with my family 

Finding a cool new coffee shop in the city 

Going camping or hiking with my friends

Taking the boat out on the lake 
Question 4: 
My ideal vacation is: 
Going to the beach 

Staying in an Airbnb

Taking a cross-country road trip to a national park 

Escaping to the Smoky Mountains 
Question 5: 
How much cargo space do you need? 
I need plenty of room for my family.

I only need enough space for the occasional trip or grocery pickup.

I only need enough room for me and my adventure buddies. 

I need plenty of space to haul all my gear. 
Question 6: 
How important is customization to you? 
It's not that important, but I like the ability to add on additional safety features. 

Advanced tech and exterior customization are important to me. 

I love the freedom to change my vehicle up as much as possible. 

I like custom options for the most functional towing, hauling and cargo storage. 
Question 7: 
Choose a meal:
Spaghetti with garlic bread 

Poke bowl

Supreme pizza 

Ribeye steak with mashed potatoes 
Question 8: 
What do you listen to when you drive? 
A radio station with the top hits 

A podcast about unsolved crimes 

The birds singing

The oldies 
Answers: 
Mostly 1s: You should buy the Grand Cherokee! 
Strong and capable yet practical and spacious, the Grand Cherokee is the perfect pick for the modern family on the go! As the most-awarded SUV ever, you can't go wrong with the Grand Cherokee! 
Browse our inventory of the Grand Cherokee
Mostly 2s: You should buy the Renegade! 
The 2020 Jeep Renegade takes a fresh spin on Jeep's iconic styling! This bold and rugged crossover has a unique look and Jeep's legendary capability that travels from the city streets to Arkansas trails with ease. 
Browse Our Inventory of the 2020 Jeep Renegade 
Mostly 3s: You should buy the Wrangler!
Getting outdoors is important to you, so you need a vehicle that can take on anything the trail throws your way. When it comes to off-roading, you can't get much better than the Wrangler. Plus, there are now more ways than ever to customize your Wrangler to match your personal style and off-road personality!
Browse Our Inventory of the 2020 Wrangler
Mostly 4s: You should buy the Gladiator! 
You work hard, so you deserve a vehicle that works hard, too. The Jeep Gladiator is the most functional midsize truck ever. Built with Jeep's legendary 4×4 capability, the Gladiator can handle all types of terrain and tow up to 7,650 pounds. 
Are you ready to buy your new Jeep? Come and see us at Landers Chrysler Dodge Jeep Ram in Little Rock to take your pick for a test drive! We're here to help you get behind the wheel of the perfect vehicle for you!