Easter Jeep Safari 2022
Spring has sprung which means a few things: April showers, pastel colors on Sunday morning, egg hunts, convertible tops down, and the Easter Jeep Safari! The Easter Jeep Safari, hosted by Moab's Red Rock 4-Wheelers four-wheel-drive club, consists of trail rides, mostly daylong trips, departing from Moab, Utah, throughout the nine-day event. The Jeep Safari was started in 1967 by the Moab Chamber of Commerce as a one-day trail ride. Over the years, as participation grew, the safari expanded until it finally reached the current nine-day event. "Big Saturday" remains the culmination of the event on the Saturday of Easter weekend. This year, the safari was hosted from April 9-17. Read more below to learn about the bigger, better, faster, and greener Jeep and Jeep Performance Parts by Mopar concepts that were showcased at the 56th Annual Moab Easter Jeep Safari. 
Are you looking to get your hands on the best off-roader on the market? We have several new Jeeps available now at Landers Chrysler Dodge Jeep Ram in Little Rock, Arkansas! Click here to view our new Jeep inventory. 
"Easter Jeep Safari is the perfect opportunity for the Jeep brand to push the limits of four-wheel-drive development and, most importantly, to stay connected with our customers," Jim Morrison, senior vice president and head of Jeep brand North America, said in a press release. "Moab is a rite of passage for many Jeep owners, and to own a Jeep is to truly understand the lifestyle – it's what the Jeep brand is all about. Whether it's a Jeep concept or the latest Jeep production vehicle, our customers have the chance to get up close and personal with our passion projects during this event. From a fully capable BEV off-roader to rugged and powerful terrain tacklers, every concept is a true reflection of what our customers tell us they want and give a taste of where the future of the Jeep brand and off-roading can go."
Jeep Wrangler Magneto 2.0 Concept
This Magneto Concept sparked the inception of what is now the Wrangler 4xe into production. The Jeep Wrangler Magneto 2.0 Concept demonstrates that a battery-electric propulsion system is true to the Wrangler's heritage of on-road and off-road capability. This is a vehicle that demonstrates the Jeep brand's dedication to Zero Emissions Freedom.
Jeep Grand Cherokee Trailhawk 4xe Concept
This spring, the first-ever electrified Jeep Grand Cherokee 4xe, which will deliver 56 miles per gallon equivalent (MPGe) and 25 miles of all-electric range was launched. Easter Jeep Safari gives the Jeep brand and Jeep design team the opportunity to take production vehicles like the Grand Cherokee 4xe to the next level. Stealthy performance and quiet confidence are evident with this overlanding-inspired concept. The Jeep Grand Cherokee 4xe Trailhawk concept pairs legendary Jeep 4×4 capability with electrified freedom to deliver ultimate fuel efficiency and driving range. This is the most 4×4-capable and sustainable Grand Cherokee ever and it has conquered the Rubicon Trail in full-electric operation, and now it's ready to tackle all that Moab has to offer. It features a new class-exclusive sway-bar disconnect, allowing for improved articulation and traction over rocks and rough terrain.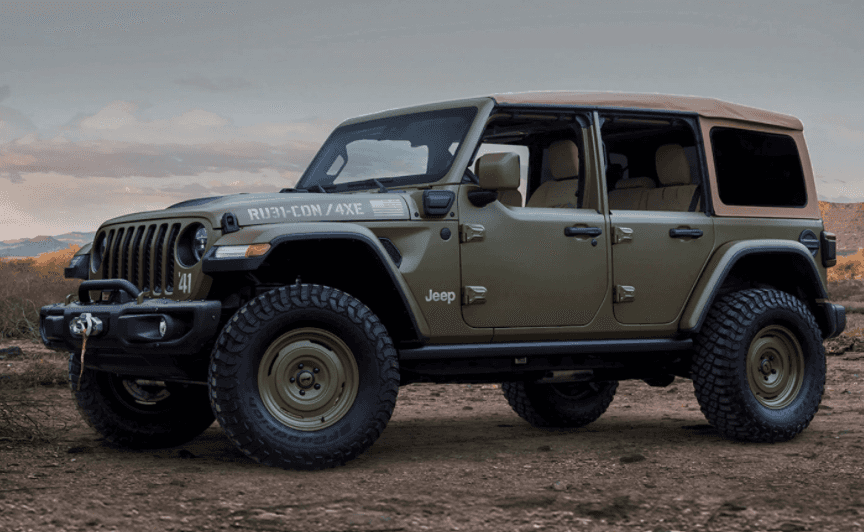 Jeep '41 Concept
"Since 1941" has been Jeep's tagline for quite a while. This concept blends the modern Wrangler 4xe with classic Olive Drab styling to create one seriously cool rig. 
Jeep Rubicon 20th Anniversary Concept
The Rubicon 20th Anniversary concept is based on the most powerful Wrangler yet – the Jeep Wrangler Rubicon 392. It continues the legacy established two decades ago by setting the benchmark for performance and capability with its 6.4-liter V8 engine, customized exterior, and stunning interior. The concept's matte Granite Crystal exterior vinyl wrap is accentuated with gold tow hooks and badging, a Rubicon 20th anniversary hood decal, an American flag fender decal, and a Mopar swing gate air compressor.
Other concept Jeep models displayed were the Jeep Bob Concept, Jeep D-Coder Concept by JPP, Jeep Birdcage Concept by JPP, and a few remaining vehicles that were shown off at the 2021 SEMA Show.
Come see us at Landers Chrysler Dodge Jeep Ram and get your brand-new Jeep today!